Meet The Team
Dr. Doug
GOLD Morning Show Host
Doctor Doug is originally from the San Fransisco Bay area. He's been a top-rated afternoon host in Salt Lake City and San Diego and been a morning show host in Portland Oregon and SF bay area. He's hosted the morning show on 94.9 BOB FM, now GOLD's morning show, and afternoons on Rooster 101 since April 2016. His favorite artists are Prince, Kenny Chesney, Tim McGraw, and U2.
He LOVE's the interaction with listeners. The GOLD morning show is very active with WhatsApp and social media, and Doug has so much fun being so connected with those who listen to GOLD. When he's not on air, he can be found hosting the Tuesday trivia night at Salty's. He's a big trivia nerd and loves history of the Cayman Islands trivia and what the old days in Cayman were like.
Fun facts:
• Something you may not know about me is… I was scared of the ocean before moving to the Cayman islands...never snorkeled or swam in the ocean prior. was petrified of the ocean.
• If I won the lottery tomorrow, I'd buy a big new building to move the Cayman Islands Humane Society to a nicer facility. I would also buy the bachelor pad top floor of FIN in South Sound.
• If I could invent a holiday, it would definitely involve… The Monday AFTER Superbowl Sunday HAS to be a holiday after all that food and fun
• What are some causes you care about? The Humane Society , PAWS Cayman Islands, One Dog At A Time, Cayman heart Fund. in 2019 I had open heart surgery at Health City Cayman islands and it saved my life. The doctors and nurses there are world class.
Tim Hartman
GOLD Afternoon Drive Host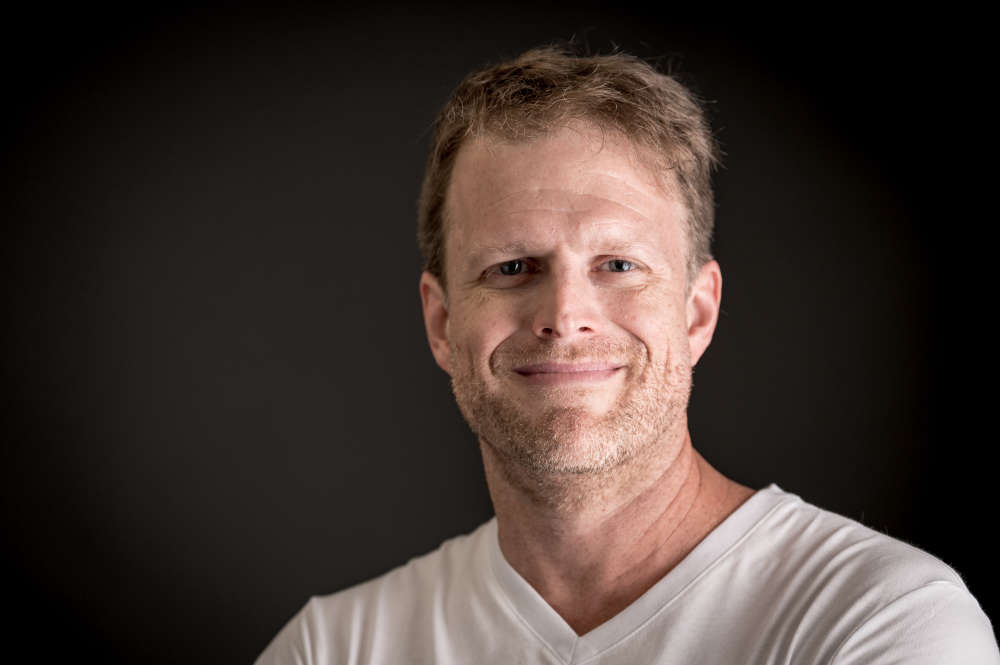 Tim was born in Ohio and generally nomadic in nature for the past two decades. He's ventured from Las Vegas to St. Louis to the Middle East, Jordan, Dubai and now the Cayman Islands! He's half of Z99's morning show with Tim & Teri, a favorite across the island. Tim's favorite part of the morning show is that people listen so closely to the show and that people remember specific conversations he and Teri have had on the show long after they've forgotten. "I'm grateful people listen so closely but it's also a reminder of the responsibility of conveying our thoughts in the most accurate way possible." One of his favorite musicians is John Coltrane because he has the perfect combination of a spiritual and musical style. When Tim is not working, he enjoys lazy Sundays with his cats.
Fun facts:
You may not know…. I'm fully synesthete (google it - are you?)

Another life…. Oh I was a mammal just not sure which one - probably a dog constantly distracted by shiny objects and squirrels.

The best piece of advice…learn something skillful with your hands (keep it clean)

If I could invent a holiday, it would involve…animals of course. Agouti Day is already a thing, and I am looking for the next Cayman animal to holidize.

If you're thinking of getting into media, learn how to speak and present yourself first and foremost. Second, learn everything on the technical side of audio AND video. Everything is necessary and media will continue to evolve in many unpredictable directions.

Superpower - the ability to communicate with all forms of life. I wanna be talking to my cats (specifically - it's killing me what they're plotting but I know it's not good), dogs, agoutis, comfort llamas, sea turtles, sunflowers, eggplants, flowers, grass, you get the
point, let's throw in humans while we're at it since we seem to have a few languages. Superpower would be quite helpful with all that.

Three words that best describe you: Spontaneous, sensitive, uncoordinated

'm very passionate about tackling the most important social issues in any country, particularly work towards poverty elimination and care for those escaping traumatic situations whether it's large-scale war or domestic issues here in Cayman or anywhere. I have a similar passion for care of animals and here in Cayman particularly as our pet overpopulation problem is ever more severe.

If I won the lottery - I'd build a vinyl record outlet in Cayman with 300,000 original vinyl albums. Completely impractical, but hey I won the lottery what do I care. I'd also build a brand-new Cayman Islands Humane Society building.