Hurricane Center

Hurricane season is officially here. A big part of being prepared is to stay informed. Keep up to date with the latest Hurricane news for Grand Cayman by checking in right here.







Hurricane Delta Crosses CI as a Category 4
Grand Cayman (GIS) – The latest from the National Weather Service (NWS) states that Hurricane Delta is now crossing the Cayman Islands about 125 miles south west of Grand Cayman as a Category 4 hurricane.
Recently received data from a NOAA hurricane hunter aircraft indicates that Delta has rapidly strengthened into a Category 4 Hurricane, moving west northwest at 16 mph with a minimum central pressure of 954 MB.
Data from a NOAA Hurricane Hunter aircraft indicates that Hurricane Delta continues to rapidly strengthen. Maximum sustained winds have increased to near 130 mph (215 km/h) with higher gusts. This makes Delta a Category 4 hurricane on the Saffir-Simpson Hurricane Wind Scale.
For the Cayman Islands, with the storm farther offshore, the National Hazard Management Council intends to lift the Tropical Storm Warning for all of the Cayman Islands and issue the All Clear at 1 pm.
However, the shoreline, beaches and coastal areas will continue to face severe and dangerous wave action. The NWS warns that severe marine wave action will continue for the next 24 to 48 hours for all three Cayman Islands due to the expected rough seas and rain bands produced by Hurricane Delta.
All in the Cayman Islands are urged to stay from the shoreline and practice extreme caution near the waters.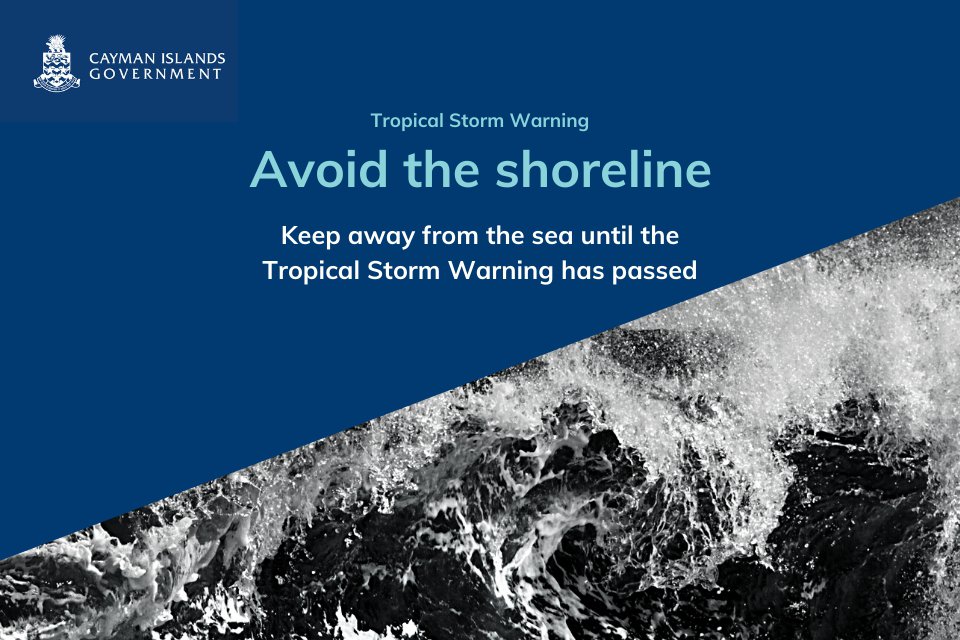 National Hazard Management Council Urges Caution
GRAND CAYMAN (GIS) - With Hurricane Delta just over 100 miles to the southwest of the Cayman Islands, and expected to soon strengthen to a category 3, the National Hazard Management Council is calling for members of the public to stay indoors, stay safe and above all stay off the water.
The storm's closest point of approach to the Cayman Islands was expected to be 98 miles to the southwest of Grand Cayman at 8am. From this point it is expected that the Islands would experience tropical storm force conditions at least through mid-day.
The island's south coast is currently experiencing rough seas of 8-10 feet which is expected to change to 5-7 feet tonight. As Hurricane Delta continues to strengthen and move west-north-west towards the Gulf of Mexico, it is expected the west coast of the Island could experience seas of 5-7 feet beginning tonight.
The National Hazard Management Council's priority in its response to Hurricane Delta has been on preparedness, but also protecting lives and property, notes Chair, Deputy Governor Franz Manderson.
"This is a powerful hurricane that is not yet past. We are expecting to experience tropical storm conditions including winds of 40mph for the next few hours. Rough seas are expected to continue for some time after that.
"During this time we would like to remind persons to stay tuned to local media for up-to-date information about their area, but also to stay inside unless they need to travel for essential reasons, and in particular to avoid the shoreline until they are told it is safe. Anything else would be putting their lives at risk and those of any essential workers who might be called in to rescue them. Let's all stay smart and stay safe", Mr. Manderson remarks.
The RCIPS has expanded on the National Hazard Management Council's call for caution, advising persons to avoid in water activity of any kind, to stay away from shoreline areas, and if they must travel for essential reasons to use alternate routes that avoid shoreline areas such as South Sound and the George Town waterfront.
The National Hazard Management Council also urges members of the public to stay tuned to official sources and local media for up-to-date information specific to the Cayman Islands. The National Emergency Operations Centre can be contacted at 949-6555 for non-emergency related matters. All emergencies should be directed to 911. The next National Weather Service advisory is expected at 4am.
For details of the Government's response to Hurricane Delta, and key public information notices, visit www.gov.ky and stay tuned to local media. For the latest weather information persons should visit www.weather.gov.ky. Information on severe weather preparedness is available from www.caymanprepared.gov.ky.